Traveling Back in Time; The Famous 1985 Live Aid Concert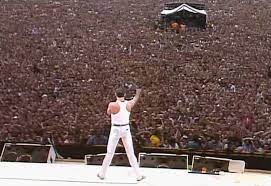 What do you know about the Live Aid Concert? Did you know that concert was one of the biggest concerts the world has ever seen? The concert was put into place to raise money for desperate Africans. These Africans were either dying of starvation or the lack of emergency care.
The event was so huge that the concert was linked by satellite where it was seen by billions of viewers. The event spread across 110 nations and was very successful. The concert raised more than 165 million dollars. 
The Concert was up to 16 hours long and included more than 75 acts. Some of these acts included Elton John, Queen, Madonna, Santana, Eric Clapton, and many more. 
The event was broken up into two stadiums. The artists either played at JFK Stadium in Philadelphia or Wembley Stadium in London.
One of the most famous performances was from Queen. It is believed by many people that Queen stole the show. The band played a 20-minute show playing a lot of their hits from the 1980s. 
The Live Aid was a free event and was one of the biggest charity concerts in history. Live Aid would help stop starvation in Africa and encourage the growth of African crops.