Silver Medallion Winners Stand Tall and Proud of their Accomplishment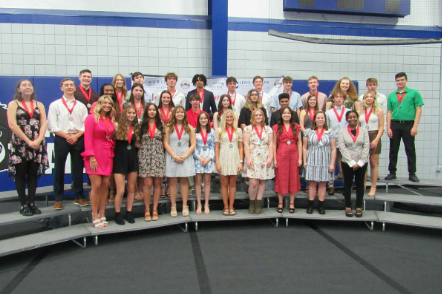 Every year, the Silver Medallion Award is given to students who are in the top 8% of their graduating class. These students work extremely hard by taking challenging classes and maintaining excellent grades throughout their years in high school. To achieve this, "It took many long hours of studying and hard work," senior Eleanor Schuler said. 
This ceremony was held on April 13 at Lewis and Clark Community College. This year marked the 35th annual Silver Medallion Academic Awards Banquet. Around 23 schools had students recognized for this award. 
This achievement was honored to 206 high school students in the area. "It's not always easy to keep going and this award acknowledges that determination," Schuler said. The students that were granted this award from Alton High School were Rebekah Blackmon, Xavier Carter, Bryce Croxford, Katelyn Czarnecki, Alyssa Eagleton, Samantha Eales, Audrey Ennis, Grant Fournie, Amber Harrison, Benjamin Hart, Donald Holliday, Victor Humphrey, Madison Ingram, Alvin Jones, Kamryn Kizer, Christian Kotzamanis, Jacob Larson, Brody Macias, Peter Malenic, Simon McClaine, Ryan McNamee, Caitlyn Neely, Cecilia Parker, Wesley Patridge, Claire Paule, Gabrielle Peuterbaugh, Juliana Rensing, Kathryn Saenz, Eleanor Schuler, Kathryn Stark, Kennedy Stephens, Aaron Swanson, Quillan Taylor, Alyssa Wisniewski, Megan Yarborough, Isabella Hall, Noah Perkins, Madison Ross and Miles Windmiller.
"It was rewarding to receive the Silver Medallion along with many people I knew from my classes and be recognized for my hard work," Xavier Carter said. Students who receive this are among those who exemplify exceptional dedication within their school. "My advice to the underclassmen who want to achieve this award is to take the classes that interest them the most and maintain good grades early on in their high school careers," Eleanor Schuler said. "You will ultimately do better in something that fascinates you and be prouder of your achievements."