Tom Brady Demolishes NFL Competition, Finishing Greatest Career of all Time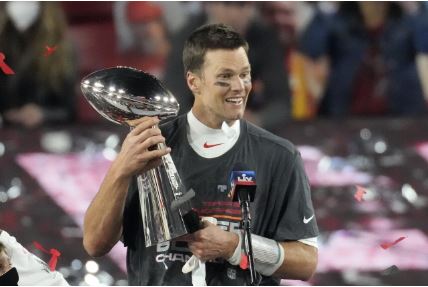 During Super Bowl 51, a picture was taken of NFL Quarterback Tom Brady sitting on the bench holding his hands and hanging his head while his team was down 28-3 to the Atlanta Falcons. This picture circulated the Internet and people were pointing to it as a sign of defeat from Brady. But little did anyone know that in a few minutes he was about to prove that he was the greatest NFL player of all time.
Brady achieved the unachievable. He rallied his team to the greatest playoff comeback of all time, with an overtime win of 35-28, winning him his fifth Super Bowl.
Tom Brady has finally ended his 23-season career, making the debate of him being the greatest player of all time all the more relevant. For most of my life I have cheered against Brady, however I know that there is an abundance of evidence in support of the belief that he is the greatest to ever do it. Exhibit A of his greatness is his long list of accomplishments and awards.
Brady was selected as an Associated Press All-Pro player on three separate occasions, meaning that a group of NFL experts decided he was the best performing quarterback in the NFL in three different seasons. He was also voted to the Pro Bowl, which is a game played by the best players in the NFL, 15 times. He was also awarded the NFL's most prestigious honor, Most Valuable Player, three times. 
While all of these awards are amazingly impressive, it doesn't even shed light on his ability to make it to, and win on, American sports biggest stage, the Super Bowl. Brady has made it to the Super Bowl a remarkable 10 times, and he walked away with the Lombardi Trophy 7 of those times, giving him the most amount of Super Bowl wins of any player ever. In five of those seven wins, he was named the MVP of the game as well. 
Being as good as he was for any amount of time is something to be proud of, but the sheer amount of years that he kept this winning pace is what sets him apart from the other NFL all-time great players. Brady holds just about every quarterback record you could want, including having the most career passing yards and touchdowns of any player ever. Despite being 45-years-old, he also led the league in pass attempts and completions this season. 
These astonishing stats make it easy to believe the kind of playoff performer he was, because he was terrific in the playoffs. Brady has made the playoffs more than any player in NFL history, recording 48 playoff games, as well as holding a wildly successful record in these games, being 35-13. This means Brady has almost played in more playoff games than the amount of regular season games in three entire seasons.
Brady missed the playoffs once in his whole career, and had only one losing season. It is true that much of his success can be attributed to his coaches and teammates, but there was no denying his victorious tendencies when he changed teams in 2020, and in his first season there, led the Buccaneers to a Super Bowl win. 
Brady wasn't always the most flashy and entertaining player, but he almost always did his job at an incredibly high level. Many sports fans argue about who's the greatest basketball, baseball, or hockey player, but there is almost no denying that Tom Brady is the GOAT. If you disagree with me, I encourage you to check out his stats or watch some of his memorable moments and decide for yourself.