"R" Acres of Terror Reopens to the Public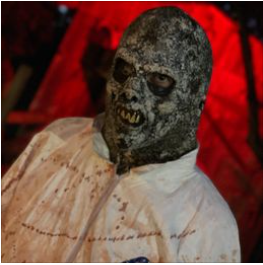 Halloween is coming up fast this year, which means haunted houses and haunted mazes are starting to open up for the season. Although, many businesses have closed down this year due to Covid, there is still one more place to try. According to "R" Acres of Terror's Facebook page this is one of the scariest places to visit this year and "where the woods come alive."
Due to the pandemic last year the owner, Ron Root, was told to shut down his haunted maze. Ron and his family shut down and sold everything they had from their attraction from the previous year. Once hearing that Ron and his family could reopen, they bought brand new equipment to make this year the best and scariest year they have ever had.
Where did the "R" Acres idea come from? "It goes back to when I was a kid and my mother used to scare me," Root said. "My wife and I got married in 1996, her family owned a farm. It went through my mind that it would be cool to start a haunted house on the farm."
"R" Acres of Terror takes their victims down a long, winding path full of dark and scary trees with gnarled branches and terrifying decorations. Every visitor takes a risk after purchasing a ticket. "I wouldn't really recommend it for kids 12 and under, but we will scare you, I don't care who you are," Ron said.
This popular Halloween destination can be located at Dow, Illinois, 10 miles north west from Alton. The maze is opened every Friday and Saturday during the month of October from 6:30 to 11. Their admissions are $20 for adults and $15 for all kids 12 and under. 
The staff at "R" Acres encourage all guests to come and visit their maze this year since visitors had to miss out last year. So far, Ron and his family have had great success with the crew and set up. They hope to see more guests this year for the new 2021 season.