Five Mental Health Days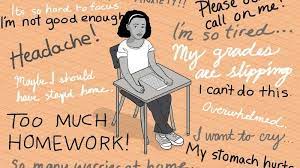 The stability of mental health is vital. Our state of mind determines how we perceive certain aspects of life. When one's not in the right state of mind, daily tasks start to feel like burdens, and waking up in the morning almost feels impossible. Stress is a completely common emotion to experience, especially while having multiple responsibilities. Students who attend school feel pressured to keep up with assignments, work, and tend to chores at home. All of these responsibilities are just as important as your mental being. Carrying so much weight may cause fatigue, so not wanting to come to school is completely understandable! Taking days off of school carries some weight too, though. Too many absences can deduct certain privileges, and get parents in legal trouble. So, how do we maintain a balance between the two without suffering the consequences?
The state of Illinois has decided to pass a bill that gives students ages 6-17, 5 excused mental health days. "Students in Illinois will soon be able to take up to five mental health days off school" (Delandro). Legislation states that these 5 mental health days "won't be required to present a medical note, and shall be given the opportunity to make up any school work missed" (NBC). Receiving 5 mental health days is a huge benefit for each student. Although students will be able to tend more to their mental needs, they'll also be required to seek help for needing to take the days off in the first place. After students utilize their second mental health day, they will be referred to seek professional help from school staff. Will being required to seek help after taking two mental health days off, scare students away, or make them feel eager to address certain obstacles with a professional?
Mental health is often overlooked, because it's usually not perceivable by the eye. Because internal struggle isn't always shown physically, people tend to neglect their mental needs. Juggling a lot of responsibility makes it easy to ignore what's happening inside of our minds, because we're always so busy. Neglecting the state of your mental being can cause the wealth of your mental to deteriorate, so rest is essential. Relaxing is a way to cope with stress, and now, we're finally given some time to.
By Heaven Bryan