IHSA Ruling Affects Winter Sports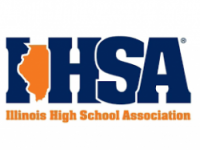 As winter sports are just around the corner, the Illinois High School Association (IHSA), had to make some alterations to ensure athletes stay safe during the current pandemic. There are now requirements and considerations, modified seasons and limitations for the 2020-2021 winter sports season. Some sports that can still take place include boys and girls bowling, boys and girls basketball, boys swim and dive, dance, and cheerleading. 
All of these sports are considered to be at low IDPH risk. However, basketball is considered to be high risk. Due to the risks, student participants, coaches, timers, paid/volunteer game officials and media must stay at least 6 feet apart and are considered a group of 50 people maximum. Other than social distancing, there must be enough time left for sanitization if it is a multiple team event. 
Athletic director, Christopher Kusnerick, also announced which sports would be allowed during Alton's winter season, but girls and boys basketball will not be allowed to compete. However, they are allowed to practice. Winter sports have always required athletes to gather and practice before the season begins to prepare them. 
"Winter practices will begin on November 16 for all winter sports following the proper COVID policies and protocols placed on sports in the state of Illinois by the IPDH and the ISBE," Kusnerick said. 
Allowing athletes to begin practicing for the season, it is important for athletes and coaches to keep in mind that COVID could potentially cut their season short. 
"We are hoping that we will be able to have complete seasons, but as we have learned so far with the COVID pandemic it is important to remain flexible," Kusnerick said. 
And although there may not be any fans or family members allowed to attend games, the Redbirds are always there to cheer each other on. Go Redbirds!