Where Would You Like to Travel?
Noah Bevenour and Ahmad Chapman
February 6, 2020

Loading ...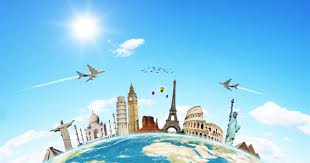 A trip is never one to be wasted or forgotten. So when asked to come up with a comprehensive list of places to go, me and my partner Noah Bevenour came up with about three places we'd like to explore and see. These places range from your typical big city to reclusive/abandoned locations one would never put on their list. So with all that being said, here's our list.
Starting off with mine, a personal place I've always wanted to go would be New York City. Known as the city that never sleeps, New York has plenty of places that would give you memories you'd never forget. The Statue of Liberty, Broadway, and Times Square are many places I would like to explore as I've seen these things in movies all my life.
On places that I believe should be in this travel location list, Chicago is definitely missing from this list. Chicago is filled with plenty of entertainment spots. Places like the Field Museum, the Shedd Aquarium, and the Chicago Science Museum are great places. For food, trying out places such as Pizzaria Duo/Uno and Giordano's give you a true taste of Chicago history.
In the ideal sense, I would love to travel to a place like Belize. Belize has adventurous elements to it with its caves containing crystallized skeletons and its giant coral reef contains millions of sea creatures. For the relaxing side, Belize offers many hotels and resorts alongside scenic beach/ocean views. Lastly, Belize would offer me a glimpse at different customs and culture that can't be seen here in America.
The host of the "Where Do You Want To Travel", Jada Yuan, has a very fun job. Being able to travel to one place and document is one thing but it's another thing when your able to travel to multiple locations. The fun thing about his job is that for one most of its not out of his pay rather some networks or magazines pay. The challenging thing would be getting used to a traveling schedule and possibly gaining homesickness.
Possibly the thing that makes the most about a travel writer such as Jada Yuan, is the ability to represent each place with interest and having detailed experiences about each place. A person must have a good memory to keep up with every new moment. Another thing to have with you physically would be a camera to detail certain events along the way. Viewers like me, like to hear about the outlandish moments seen or experienced while there. So in conclusion, I believe a good traveler is able to take in an areas fine detail and has the ability to go outside the box with each trip taken.