You
Tyler Downey, Reporter
January 23, 2020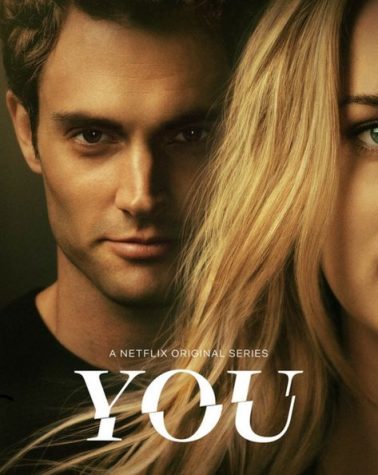 The Netflix original "You" is a suspenseful and exciting show. The show follows Joe Goldberg, played by Penn Badgley, a bookstore manager that falls in love with Guinevere Beck, played by Elizabeth Lail, a graduate student aspiring to become a writer. Although things don't go his way, there's always a price to pay. 
Two seasons have been released so far, but season three has been confirmed. "You" is well filmed and directed with mysterious and creepy undertones.  Viewers stay interested by coming up with predictions on what's going to happen to the characters and plot next, however, "You" shocks the viewers by revealing situations that generally wouldn't be a consideration.
In the first season of "You" watch Joe become obsessed with Guinevere or as she liked to be called Beck. He uses social media stalking to learn everything about Beck. Including; where she lives, who her friends are, the type of men she goes for, and what her daily schedule looks like. 
In order to keep Beck to himself, Joe kills anyone that gets in the way of their relationship. These people are; Beck's on again off again ex-boyfriend Benji, played by Lou Taylor Pucci, and Peach, played by Shay Mitchell, Beck's jealous best friend who also is in love with Beck. 
Each of these actors portrays their characters absolutely fantastic. Due to their performances, many viewers became more aware and frightened by the possibility that this could actually happen.
In season two, Joe moves from New York to Los Angeles, hoping to move on with his life. Along with the new move, Joe has a new name, Will Bettelheim. Joe/Will hopes to make a new life without love; however, things never seem to work out the way we plan them to, and slowly Joe/Will's life begins to get flipped upside down. 
I liked this show a lot, it was fascinating to me, and I believe many people would feel the same. There was a lot of excitement, and it is easy to get sucked in and can't stop watching, I hope you sit down and give "You" a watch and see if you enjoy it as much as I did.