ANNOUNCEMENTS FOR WEDNESDAY DECEMBER 4, 2019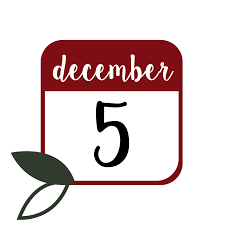 Hang on for a minute...we're trying to find some more stories you might like.
IT'S THURSDAY DECEMBER 5TH AND IT'S TIME FOR THE DAILY BIRD
IN TODAY'S EDITION…
SENIOR BABY ADS DUE FRIDAY
FINAL EXAM TEST TIPS
AND…DAILY TRIVIA
GOOD AFTERNOON ALTON HIGH
I'M _____________ AND I'M ____________ AND HERE ARE YOUR ANNOUNCEMENTS FOR WEDNESDAY DECEMBER 4, 2019
TRIVIA QUESTION
WHO WAS THE FIRST PRESIDENT TO DECLARE WAR? 
WE'LL GIVE YOU THE ANSWER AT THE END OF THE ANNOUNCEMENTS
Attention Seniors
Baby Advertisements or Public Display of Affection Ads are due December 6, 2019 for the 2020 yearbook. Do not forget to get photographs and messages to us prior to that date. Pick up an order form in A119… you can email photographs, designs, and messages to [email protected] Please make checks or money orders payable to Alton High School.
ATHLETIC EVENTS
THURSDAY 12/5
WRESTLING @ 6:00
TEST PREP WORD OF THE DAY
autocratic
adjective: characteristic of an absolute ruler or absolute rule; having absolute sovereignty
The last true autocratic country is certainly North Korea; nowhere does a leader exercise the absolute control over all aspects of a people the way that Kim Jong-un does.
FINAL EXAM TIPS
FINALS ARE JUST AROUND THE CORNER…
HERE ARE SOME TIPS TO HELP YOU PREPARE…
Reorganize your notes.
Evaluate and reorganize your notes into what's important, outlining important concepts, formulas dates and definitions so they're easy to understand.
TRIVIA ANSWER
WHO WAS THE FIRST PRESIDENT TO DECLARE WAR? 
 
JAMES MADISION
IN JUNE OF 1812 MADISION DECLARED WAR AGAINST GREAT BRITAIN
THANKS FOR WATCHING AND CHECK US OUT AT
thedailybird.org
And @ahsdailybird on twitter