ANNOUNCEMENTS FOR FRIDAY NOVEMBER 8, 2019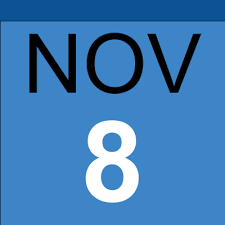 Hang on for a minute...we're trying to find some more stories you might like.
IT'S FRIDAY NOVEMBER 8TH AND IT'S TIME FOR THE DAILY BIRD
IN TODAY'S EDITION…
COLLEGE VISITS
INTERACT CANNED FOOD DRIVE
THE SAT WORD OF THE DAY AND READING TEST TIPS AND
GOOD AFTERNOON ALTON HIGH
I'M _____________ AND I'M ____________ AND HERE ARE YOUR ANNOUNCEMENTS FOR THURSDAY NOVEMBER7, 2019
The Interact and RRSK groups are hosting a Can Food Drive for the month of November.  We are asking that 1st hour teachers be willing to collect non-perishable food items in your classrooms.  The winning classroom that collects the most total number of items to donate will win a Donut breakfast in December.

Contest Runs now through November 22nd.  All items will be collected/counted on the 22nd by Interact/RRSK group members during 1st/2nd hours.  Winning class will be announced the following week.
AP TESTS-OFF CAMPUS PERMISSION
The testing will take place at Heartland Baptist Church at 4500 Humbert Road. Even if Seniors are done with school you will need to take the test.
There will be a non refundable $40 deposit required by November 8th.  The remaining balance of $54 per test is due by May 1st. 
Sign up and pay your fees in bookkeeping with Mrs. Lehman by November 8th
If you have questions contact [email protected]  
474-1828

Interested in Philosophy?
If you are join AHS' new Philosophy Club
Meeting are after school on Mondays in B210
Any questions contact Kieran Favazza
[email protected]

AHS is excited to announce the addition of a new club: All for 1. All for 1 is for students affected by a loved one's addiction to alcohol or any illegal substance. Students will be able to share in a supportive environment free from judgement or criticism. Meetings will be held Tuesdays in the library from 3:25-4:25. The activity bus will be available. 
COLLEGE VISITS
LINCOLN COLLEGE WILL VISIT ON TUESDAY NOVEMBER 12TH @ 1:45
LINCOLN COLLEGE IS LOCATED IN LINCOLN, ILLINOIS AND HAS AN ENROLLMENT OF 800. THEY PARTICIPATE IN NAIA FOR ATHLETICS
COLLEGE VISITS
UNIVERSITY OF ALABAMA WILL VISIT ON TUESDAY NOVEMBER 12TH @ 9:00
ALABAMA IS LOCATED IN TUSCALOOSA, ALABAMA AND HAS AN ENROLLMENT OF 39,000. THEY PARTICIPATE IN DIVISION I FOR ATHLETICS
COLLEGE VISITS
LEWIS AND CLARK/UNIVERSITY OF ILLINOIS ENGINEERING PATHWAYS PROGRAM WILL VISIT ON MONDAY NOVEMBER 18TH @ 9:00

COLLEGE VISITS
NORTHERN ILLINOIS WILL VISIT ON TUESDAY NOVEMBER 19TH @ 2:00
NIU IS LOCATED IN DEKALB, ILLINOIS AND HAS AN ENROLLMENT OF 20,000. THEY PARTICIPATE IN DIVISION I FOR ATHLETICS
COLLEGE VISITS
KANSAS STATE  WILL VISIT ON FRIDAY NOVEMBER 22ND @ 1:45
K-STATE IS LOCATED IN MANHATTAN, KANSAS AND HAS AN ENROLLMENT OF 22,000. THEY PARTICIPATE IN DIVISION I FOR ATHLETICS
SAT READING SECTION TIPS
Read the questions before the passage.
This is a good way of saving time when you're taking the SAT because you will most likely go back to the passage over and over again after reading the questions. Instead, read the questions first then read the passage. Doing so also allows you to read only the information and key points that are related to the question.
AND NOW…TEST PREP WORD OF THE DAY
TEST PREP WORD OF THE DAY
sanguine
adjective: cheerful; optimistic
With the prospect of having to learn 3,000 words during the course of the summer, Paul was anything but sanguine.
THANKS FOR WATCHING AND CHECK US OUT AT
thedailybird.org
And @ahsdailybird on twitter