Alton High School Weekend Weather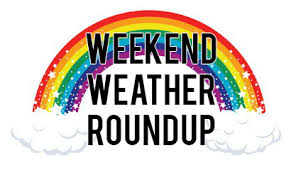 November 9, 2017
Filed under News
Hang on for a minute...we're trying to find some more stories you might like.
GOOD AFTERNOON ALTON HIGH THIS IS YOUR WEEKEND WEATHER
FOR THE REST OF THE AFTERNOON IT WILL BE PARTLY CLOUDY WITH LITTLE CHANCE FOR RAIN OR SNOW.  THE LOW WILL BE IN THE UPPER 20'S.
SATURDAY WILL BE PARTLY CLOUDY WITH A 50% CHANCE OF RAIN IN THE EVENING. THE HIGH WILL BE 48 AND THE LOW WILL BE 35 DEGREES.
SUNDAY EXPECT RAIN DURING THE DAY WITH HIGHS IN THE LOWER 50'S WITH A LOW OF 32 DEGREES
THANKS FOR WATCHING, THIS HAS BEEN
AND                               WITH YOUR WEEKEND WEATHER.