Makeup dupes, reviews and comparisons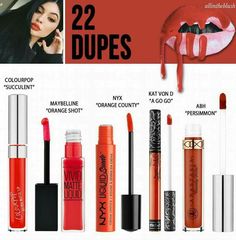 Advertisement
Hang on for a minute...we're trying to find some more stories you might like.
In today's world, makeup has became more popular than ever. Now, everyone is going and buying the most expensive brands, for the biggest price, thinking that is all they can get. But, we are here to help! Some of your favorite high end makeup brands, like Urban Decay, Benefit and Too Faced have several drug store dupes that are just as good for your face, and even better for your wallet!
First up is the highly coveted Kylie Lip Kits. Sold for the high price of $29 for a kit that includes a liquid lip and lip liner, it's not that bad of a deal. However, these lip kits are very hard to get your hands on and sell out in seconds. Some helpful dupes for the shade Dolce K are NYX Cannes, which retails for about $6 at Target or Ulta. Or Kat Von D's Lolita, which is just as expensive as the Lip Kit, but does not include the liner. Another dupe for Kylie's shade "22" is Colourpop "Succulent", Maybelline 'Orange Shot", NYX "Orange County", Kat Von D's "A Go Go" and Anastasia Beverly Hills "Persimmon".
That's all for this week's dupes!