Old school, new school
Advertisement
Hang on for a minute...we're trying to find some more stories you might like.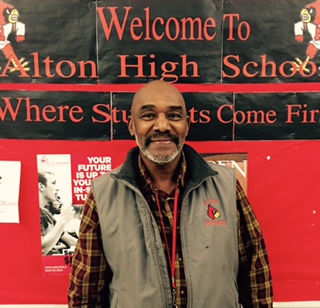 Forty ­seven years have passed since Alton High School faculty member Bobby
Everage started his own secondary school career. He now works at the school as an
assistant for Guidance and spends his mornings doing laps around the red and grey
hallways.Through personal experiences, Everage gives back to his school and
community in any way possible.
During his time, Alton High was located on College Avenue, which is now Alton Middle
School. Everage enthusiastically noted that school back then was lenient regarding
student independence. The students weren't as restricted or bound by excessive rules.
For example, the teens could visit restaurants uptown and eat in the parking lot, better
known as "The Pit," for lunch.
Although the school environment was slightly hands­off, the community and its people
took on a more involved approach. Everage refers to life back then as a "family affair."
Neighbors were not just people you lived by, they were family and knew pretty much
everything. He definitely didn't try to get anything past the adults he knew.
Growing up in Alton and attending AHS, there was always something for Mr. Everage to
look forward to. From football games to family cook­outs, his life was all but boring.
However, he did have to endure the issue of segregation and racism. Despite this,
though, he strongly believes there opportunities for African Americans was at an all time
high. He said that there were various black businesses around town.
The success of black people in Alton came as a result of using their voices for good.
They spoke up and did what they thought was right.  Everage commented, "To get what
we wanted, which was equal opportunity, we had to fight for it."
As years go by, many people think society would improve. Everage on the other hand
doesn't feel that way. The ways of community and school have switched places in his
opinion. It's sad to him that Altonians still see, but don't take time to speak up about
problems. He also thinks schools have rules, like closed­campus, that wouldn't have
even been discussed in his day.
"I like today, but I have not forgot where I came from," he said. Despite having criticisms
about today's society, he doesn't believe everything is horrible about the modern world.
The advance in technology is one thing he wishes he had access to while he was in
school. When he didn't know something, he had to bust out an encyclopedia and flip
through page after page. At the mention of technology, Everage gets a smile on his
face. He feels that the Internet is useful to everyone. They allow for access to more
information than he can imagine. He enjoys having answers at the mere touch of his
fingertips.
Everage still continually shows his involvement in the community, through mentoring
students and volunteering at various organizations. Giving students something he didn't
always have as a teen has been a goal of his for quite some time. He wants the kids to
know, "You can just dream something up and it's there."
Being able to incorporate past experiences with current ones, he has developed positive
relationships with an array of students. Everage not only helps out in the offices, he also
tries to put a smile on the face of anyone who walks by.
Mr. Everage worked past problems in his life in order to bring happiness and an old
school feel to everyone around him. His friendly laugh and quirky conversation make his
presence known in Alton. One could even argue that  Everage is an asset to both
school and community. He may be older now, but his personality is timeless.